PODCAST 289 – MARK KERMODE ON HIS LIFE-LONG STRUGGLE AGAINST MUSICAL INSTRUMENTS
Ever since first hearing the siren call of the Rubettes' Sugar Baby Love, Mark Kermode – TV and radio's Mr Movie – has been possessed by a determination to find out how it feels to be on stage with a band and to make the noise that bands made. His new book How Does It Feel? recounts every step on that journey, from making his own guitar while at school through leading his own bands The Bottlers and The Dodge Brothers and masquerading as the musical director of Danny Baker's late-night chat show to trying to learn the chromatic harmonica on stage in front of a large orchestra and an even larger audience. It has been a life devoted to the noble objective of getting some kind of noise out of just about anything he has been confronted with and being prepared to treat the twin impostors of approval and derision both the same.
PODCAST 288 – THE UNINTERRUPTED SEYMOUR STEIN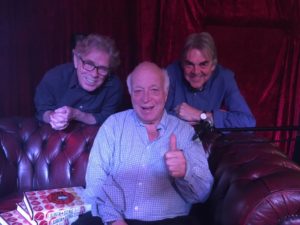 We couldn't get over the fact that Seymour Stein actually met Buddy Holly. It shouldn't surprise us really because after all he is 76 and his first job in the music business was at Billboard when he was a teenager. It's well known that as boss of the Sire label he signed the Ramones, Talking Heads, Depeche Mode, the Undertones and Madonna. What's less well known is the part played in the Sire story by Focus, the Deviants and the Climax Blues Band. The full story is written in Siren Song which he's written with Gareth Murphy. He came to Word In Your Ear to talk about it. We let him get on with it.
PODCAST 287 – STUART BAILLIE ON HIS BRILLIANT BOOK ABOUT MUSIC, NORTHERN IRELAND AND THE TROUBLES
Stuart Baillie's book, Trouble Songs, is, as he told us at this Word In Your Ear, his personal story as well as the story of music and the Troubles. Born in Belfast in 1961, Stuart came to London to work on the NME, returning to Belfast in the late 90s to run a music project in the city. His book paints a rich picture of a place with unique virtues as well as unique problems.
It's the story of how entertainment has reflected both and how live music re-emerged from behind the ring of steel and came blinking in the daylight following the Good Friday agreement. It's the story of Christy Moore, the Miami Showband, Stiff Little Fingers, Rudi, Van Morrison, the Undertones, Terri Hooley and scores of others, many of whom were interviewed specifically for the book. It's also the story of the part played in the events of the time by outsiders like Lennon and McCartney, U2 and The Clash. It's the story of how music both brings people together and sometimes drives them apart. It's one of the best books we've ever covered in Word In Your Ear.
PODCAST 286 – WITH KENNEY JONES… WE CAN USE THE WORD 'LEGEND', CAN'T WE?
Drummer with the Small Faces, the Faces and the Who, supplier of the distinctive drum sound on the Rolling Stones' It's Only Rock'n'Roll, guest at Mick Jagger's wedding in 1971, Kenney Jones is one of the few people born in Stepney in 1948 who would up owning his own polo club. It's all in his newly-published autobiography Let The Good Times Roll. He came to the Islington to talk to Mark and David about it. The new air conditioning was working and splendid time was had by all.
PODCAST 285 – WITH SIMON MAYO TALKING ABOUT HIS FIRST ADULT NOVEL… SOON TO BE A MAJOR MOTION PICTURE
Award-winning broadcaster and podcaster, successful novelist and former Word subscriber Simon Mayo makes his debut on the pod to talk about his ascent of the greasy pole of broadcasting, his experience fronting the Radio One Roadshow in the days when that was a very big deal, his radio husband Mark Kermode, his radio wife Jo Whiley, his first adult novel Mad Blood Stirring, soon to be a major motion picture, and the real reason why Dave Lee Travis always got the biggest cheer.
PODCAST 284 – WITH OLD FRIEND OF THE POD ANDREW COLLINS, BOSWELL TO BILLY BRAGG
It was a delight to catch up with Andrew Collins on the occasion of the publication of Still Suitable For Miners, his biography of Billy Bragg which was initially published in 1998 and is now updated with additional material. He talked to David and Mark about the days when a biographer had a carrier bag of clippings instead of the internet, how the self-described big-nosed bastard from Barking managed to turn himself into a national institution and kept his brand burning bright for the best part of forty years and also tells us the one about the stripper and the banana. All this and an education too!
PODCAST 283 – HIS SERENE MAJESTY NEIL INNES ON THE LEGACY OF THE BONZOS AND THE 40TH ANNIVERSARY OF THE RUTLES
In the sixties Neil Innes wrote and sang many of the deathless masterpieces of the Bonzo Dog Doo Dah Band. In the lates 70s he was the leading light of the pre-fab four, The Rutles, still the greatest and most affectionate of Beatles parodies. He lives in France now. On a visit to the UK to take part in a tour marking the 40th anniversary of the Rutles he dropped into the Islington to talk to old skool fans Mark and David about wooing women with fruit, meeting the Beatles on the stairs at Abbey Road, doing a weekly children's programme live on TV with the one and only Viv Stanshall, helping George Harrison with his garden and not suing Oasis. A delightful guest.
PODCAST 282 – GARTH CARTWRIGHT AND HIS UNIQUE CHRONICLE OF UK RECORD SHOPS
Virgin, Harlequin, One Stop, Dobells, Rock On, HMV, Cheapo Cheapo, Disco, Andy's, Woolies, Our Price and a million and one places called The Spinning Disc. It doesn't matter where you did your record shopping in the far long-ago, they're all in Going For A Song, Garth Cartwright's information-packed survey of UK record shops past and present. In this podcast he talks to Mark and David about record retailing in this country from the days of the cylinder through the danceband boom of the thirties and the madness of Beatlemania to the recent rebirth of very specialist indies. It's a road we've all trodden one way or another and it's good to have it recognised.
PODCAST 281 – SIR TIM RICE TALKS ABOUT CLIFF, DEL SHANNON, THE BEATLES, SINATRA, ELVIS, PAUL NEWMAN, ELTON AND THE SECOND COMING OF JESUS CHRIST SUPERSTAR
Tim Rice didn't particularly like musicals. He was a rock and roll fan turned junior exec. In fact when Tim Rice met Andrew Lloyd-Webber in the late 60s he had an eye on a nice job running one of EMI's overseas outposts. But then there was Jesus Christ Superstar which was performed by the Grease band and recorded at Olympic and sold in quantities nobody knew anything could sell and the next thing he knew he was a giant of the musical theatre and was writing with and for everyone. The perspective he's acquired in the course of a fifty-plus year career is unique and he's already distilled a lot of it into one volume of memoirs. He came along to the Islington so that Mark and David could encourage him to get on with the next volume. It was a delight to talk to him.
PODCAST 280 – RICHARD NEWMAN ON THE AMAZING STORY OF TUBULAR BELLS
It was born in an unpromising flat in Tottenham, came to fruition in an old manor house in Oxfordshire, became, by accident, the soundtrack of a horror film that is still frightening people 45 years later and led, also by accident, to the foundation of one of the few British brands that's still a household name. It changed the lives of everybody who had anything to do with it. Richard Newman is the only person to have spent time talking to all the people who were involved and his book, The Making Of Mike Oldfield's Tubular Bells, has been re-published to mark the forty-fifth anniversary of the record's original release. He came to the Islington to talk to David and Mark about it.
PODCAST 279 – IAN ANDERSON CELEBRATES THE 50TH ANNIVERSARY OF JETHRO TULL
When Ian Anderson left the family home in Blackpool to make his name in the music business his father flung him his old overcoat. "It'll be cold out there", he said. That was more than fifty years ago. 2018 sees the fiftieth anniversary of the release of the first Tull album This Was. This anniversary is being marked by a special tour which begins in April. When Ian was our guest at Word In Your Ear he talked about: going to the police station as a 15-year-old because he wanted to be a copper, how the name of his band was as much a surprise to him as anyone else, what it was like to go on before Hendrix at the Isle of Wight in 1969, how The Who outshone The Rolling Stones during the filming of The Rolling Stones Rock And Roll Circus, why any idiot can manage his own band and why so few do, the secret of breaking America and why he felt the fiftieth anniversary couldn't go unmarked.
PODCAST 278 – GOING ON THE TURN WITH DANNY BAKER, RECORDED LIVE AT THE ISLINGTON
In the course of a packed conversation with David Hepworth the Damon Runyon of Bermondsey touches upon Keith Chegwin and the Third Ear Band, carrying a coffin and recovering from cancer, the breathtaking profanity of Hughie Green and the staggering stupidity of certain BBC executives, the difficulty of dealing with 12-year-old TV producers who are labouring under the misapprehension that they understand pop history and what happened when he and Danny Kelly decided it was finally time to try getting stoned. As ever, all human life is there – as it is in his latest autobiographical volume, Going On The Turn. Danny starts another national tour in May and he'll be coming to a town near you. Details here.
PODCAST 277 – ROBERT FORSTER OF THE GO-BETWEENS, RECORDED LIVE AT THE ISLINGTON
Robert Forster's new book, Grant & I, features strongly in many people's lists of the music book of the year. He came to WIYE to talk to Mark and David about growing up in Brisbane, bonding with Grant McLennan over their shared affection for Ry Cooder, forming a band with like-minded people rather than people who could play, getting near enough to success to be able to taste it and why no band has anything new to say after twenty minutes. Robert's been on the podcast before and remains one of our favourites.
PODCAST 276 – ARMANDO IANNUCCI, RECORDED LIVE AT THE ISLINGTON
Armando Iannucci's Hear Me Out is a collection of pieces about his first love, classical music. He decided early on that the Deep Purple and Lou Reed records favoured by his older brother didn't speak to him in the way that Holst's Planet Suite did. His book explains why. In this wide-ranging chat with Mark and David Armando talks about how it felt to not share the general enthusiasm for the sound of now and what he says to people when they try to get him on the dance floor at parties.
PODCAST 275 – DYLAN JONES ON DAVID BOWIE, RECORDED LIVE AT THE ISLINGTON
As a teenager Dylan Jones was one of that generation who saw David Bowie on Top Of The Pops in 1972 and felt he was talking directly to them. As an art student he worked as an extra on a Bowie film and even gave him a light for his cigarette. As the editor of such magazines as Arena and GQ he went on to interview Bowie numerous times. Now he's put together David Bowie: A Life, a massive oral history of the man's brilliant life and career. It draws on the recollections of everyone from old school friends like George Underwood through fellow musicians like Rick Wakeman to the artists, film makers and fashion leaders whose direction he affected. In this special extended chat with Mark Ellen and David Hepworth Dylan talks about everything Bowie, including how small he was in some directions and yet how big in others.
PODCAST 274 – CHRIS DIFFORD, RECORDED LIVE AT THE ISLINGTON
"My dad said that if I joined a rock band I would be an alcoholic, a drug addict and skint. Turns out he was right." So writes Chris Difford in Some Fantastic Place, a startlingly candid autobiography. An old friend of the pod, he came along to Word In Your Ear to talk to Mark and David about the strange dynamics within bands, the reason musicians don't talk to each other, the attractions of relaxants and stimulants and the challenges of managing Bryan Ferry. Amazing stuff.
PODCAST 273 – DANIEL RACHEL, RECORDED LIVE AT THE ISLINGTON
The guest on our snug Chesterfield was Daniel Rachel, who won the Penderyn Prize for best music book of 2017 for his Walls Come Tumbling Down, a triumphant oral history of the story of Rock Against Racism, 2-Tone and Red Wedge. It all began when he was just a kid and his parents mistakenly found themselves in the middle of a National Front rally. Now listen on.
PODCAST 272 – JOHNNY ROGAN & SID GRIFFIN ON THE EXTRAORDINARY STORY OF THE BYRDS, RECORDED LIVE AT THE ISLINGTON
Johnny Rogan almost didn't make it to this Word In Your Ear. He was so absorbed in a discussion about biography with friend of the podcast Mark Lewisohn that he had a small traffic accident that almost sidelined him for the evening. Anyway, he made it and brought along both volumes of his mammoth new account of their complex career. To help tell their story we were also delighted to welcome another friend of the pod Sid Griffin. It's all here: the folk revival, Swinging London, psychedelia, square glasses, country music, personality conflicts and some very sad ends.

PODCAST 271 – SARFRAZ MANZOOR & DAVID HEPWORTH THINK BRUCE SPRINGSTEEN COULD USE THE PUBLICITY, RECORDED LIVE AT THE ISLINGTON
Usually our guests are talking about freshly-published books. It's actually ten years since Sarfraz Manzoor put out Greetings From Bury Park, his memoir about growing up in a traditional Pakistani family in Luton with an obsession with Bruce Springsteen.
With the prospect of the story being transferred to the screen in the offing, Sarfraz came along to talk to David Hepworth about how he found parallels between Springsteen's songs and the challenges he faced in his life and how his desire to identify with the Boss led him into the odd unfortunate fashion choice. At the same time the two of them talk about Bruce Springsteen's autobiography Born To Runas it comes out in paperback, because, face it, he could use the royalties.

PODCAST 270 – DAVID HEPWORTH ON "UNCOMMON PEOPLE: THE RISE & FALL OF THE ROCK STARS", RECORDED LIVE AT THE ISLINGTON
We loved them because they could do things we could never do. We adopted them as our fantasy friends when we were teenagers and were still measuring ourselves against them forty years after. David Hepworth talks about his best-selling book "Uncommon People"which traces the history of the cult of the rock star from Little Richard to Kurt Cobain.

PODCAST 269 – THOMAS DOLBY ON THE MOST VARIED CAREER IN POP & TECHNOLOGY, RECORDED LIVE AT THE ISLINGTON
Thomas Dolby's career has seen him sharing a helicopter with a terrified David Bowie over Wembley Stadium, labouring on the nightshift at a New York studio in search of noises that Foreigner might like and dropping in on Michael Jackson at home in the days before scandal consumed him. All this and a good deal more is in his memoir The Speed Of Sound which also covers his pop success and his adventures at the heart of the great Internet revolution. He came to Islington to talk to Mark Ellen and David Hepworth all about it.

PODCAST 268 – JOHN INGHAM ON THE EARLY DAYS OF PUNK ROCK WHEN HIS WAS THE ONLY CAMERA IN THE ROOM, RECORDED LIVE ST THE ISLINGTON
John Ingham used to sign himself Jonh Ingham when he covered the very early stirrings of punk rock in 1976 for Sounds. Although he was a writer by trade he took along his camera because literally nobody else was taking pictures and he recognised that early punk was above all things colourful. Forty years later he's got those pictures out from storage and published them in a fabulous new book called Spirit Of 76: London Punk Eyewitness, which has pictures of all the key players – the Sex Pistols, Clash, Siouxsie, Generation X and Subway Sect – in the last days before they were household names. It's an extraordinary document. The book comes with an introduction from Jon Savage and a commentary from John himself. He came along to the Islington to tell us about the year it all happened.

PODCAST 267 – MIRANDA SAWYER & BARRY McILHENEY ON THE UNIQUE MAGIC OF SMASHT HITS, RECORDED LIVE AT THE ISLINGTON
David Hepworth started at Smash Hits in the late 70s, Mark Ellen joined in the early 80s, Barry McIlheney arrived in the middle of the decade and Miranda Sawyer came along in the late 80s. Therefore they were well placed to talk about such key Smash Hits experiences as being pinned to a door by Jimmy Pursey, taking Bananarama to Burger King, asking U2 to draw a duck and getting a bit tired and going home halfway through a Stone Roses interview. All this and more in this bumper ish.

PODCAST 266 – TOM DOYLE ON ELTON HERCULES JOHN, THE ARTIST FORMERLY KNOWN AS REGGIE AT THE PIANO, RECORDED LIVE AT THE ISLINGTON
"Captain Fantastic" is Tom Doyle's account of Elton's most tumultuous decade, the 70s, during which time he assumed every role from bedsitter poet to intercontinental hell raiser, from singing frontiersman to singing hornet, from Pinner to Philly and back. He came along to Word In Your Ear to talk to us about the eternal puzzle that is Elton.

PODCAST 265 – DAVID "RAM JAM" RODIGAN ON RANKING FOR FUN AND PROFIT, RECORDED LIVE AT THE ISLINGTON
There's a rich British tradition of well brought up young men from the leafier suburbs developing a fixation on music from a very different culture and somehow getting themselves a job playing said music on the radio. Nobody has done it more successfully and more unexpectedly than David Rodigan. For a part of the career he's run it alongside his work as an actor. No wonder there's so much interest in turning his book "My Life In Reggae" into a film. It's a story rich in humour and packed with incident, some of which he recounted to Mark Ellen and David Hepworth.

PODCAST 264 – TESSA NILES & GINA FOSTER TALKING BVs, RECORDED LIVE AT THE ISLINGTON
We were delighted to be joined by two of the UK's most respected providers of backing vocals and harmonies, who between them have sung with everybody from David Bowie at Live Aid on down. They showed us aspects of their vocal techniques, instructed us in the diplomatic arts required to rub along on tour when the members of the band aren't speaking to each other and explain why the wordless refrain has gone the way of the whalebone corset. You can find the full story in Tessa's book "Backtrack".

PODCAST 263 – JON SAVAGE SHORTCAST
In this shortcast Jon Savage talks to David Hepworth about his new compilation album, "1967 – The Year Pop Divided". Forty-eight tracks of psych-flavoured pop, rock and soul from the last year before music went off into its own ghettoes, from the Byrds to Captain Beefheart, from Rex Garvin and the Mighty Cravers to the Shag, from the Thirteenth Floor Elevators to Gladys Knight and the Pips, from the Monkees to The Mickey Finn. "Do the lyrics have anything in common? Yes. Drugs."

PODCAST 262 – TONY FLETCHER, RECORDED LIVE AT THE ISLINGTON
In Which Tony Fletcher tells us about Wilson Pickett, who was impossible as a child, inimitable as a singer and incorrigible as a success, and how he came to write "In The Midnight Hour".

PODCAST 261 – BARNEY HOSKYNS
In which Barney Hoskyns talks to us about Woodstock and the part it played in the lives of Dylan, the Band, Albert Grossman and Van Morrison, as related in his book "Small Town Talk".

PODCAST 260 – JEFF EVANS
In which Jeff Evans returns from researching the full history of "Rock and Pop On TV" for his new book and talks to Mark Ellen and David Hepworth about not just "Six Five Special" but also "Cool For Cats", not just Legs and Co but also Ruby Flipper, not just "The Tube" but also "The White Room", and wonders whether, now that we have You Tube, we have finally come to the end of music television as a genre.

PODCAST 259 – PAUL GAMBACCINI, RECORDED LIVE AT THE ISLINGTON


In which Paul Gambaccini, that son of New York who became an institution of British broadcasting, talks to Mark Ellen and David Hepworth about how the Beatles changed his life, how he got into broadcasting, what brought him to Britain, his experience of Radio One in the 70s, his recent ordeal at the hands of the Metropolitan police – fully documented in an amazing book Love, Paul Gambaccini – and how this experience has changed his view of the BBC and the Labour Party but not the British people. It's an extraordinary listen, one that goes the full distance from hilarity to horror.

PODCAST 258 – ADAM HOUGHTON & MICK WHITE, RECORDED LIVE AT THE ISLINGTON

PODCAST 257 – RICHARD HOUGHTON, RECORDED LIVE AT THE ISLINGTON

PODCAST 256 – PAUL MORLEY ON DAVID BOWIE, RECORDED LIVE AT THE ISLINGTON

PODCAST 255 – HUNTER DAVIES, RECORDED LIVE AT THE ISLINGTON

PODCAST 254 – SYLVIA PATTERSON, RECORDED LIVE AT THE ISLINGTON

PODCAST 253 – DEREK RIDGERS, RECORDED LIVE AT THE ISLINGTON

PODCAST 252 – DAVID AND CAROLINE STAFFORD, RECORDED LIVE AT THE ISLINGTON

PODCAST 251 – ALYN SHIPTON ON HARRY NILSSON, RECORDED LIVE AT THE ISLINGTON

PODCAST 250 – DAVID HEPWORTH, RECORDED LIVE AT THE ISLINGTON

PODCAST 249 – ZOE HOWE, RECORDED LIVE AT THE ISLINGTON

PODCAST 248 – GRAEME THOMPSON, RECORDED LIVE AT THE ISLINGTON

PODCAST 247 – JON SAVAGE, RECORDED LIVE AT THE ISLINGTON

PODCAST 246 – HOWARD SOUNES, RECORDED LIVE AT THE ISLINGTON

PODCAST 244 – THE SKYPECAST

PODCAST 243 – THE PEELCAST, RECORDED LIVE AT THE ISLINGTON

PODCAST 242 – CHRIS SALEWICZ

PODCAST 241 – THE MCCARTNEYCAST, RECORDED LIVE AT THE ISLINGTON

PODCAST 240 – PATRICK WOODROFFE, RECORDED LIVE AT THE ISLINGTON

PODCAST 239 – PETER DOGGETT, RECORDED LIVE AT THE ISLINGTON

PODCAST 238 – MICK WALL, RECORDED LIVE AT THE ISLINGTON

PODCAST 237 – LIVE AID, RECORDED LIVE AT THE ISLINGTON

PODCAST 236 – CLARE GROGAN, RECORDED LIVE AT THE ISLINGTON

PODCAST 235 – JOHNNIE WALKER, RECORDED LIVE AT THE ISLINGTON

PODCAST 234 – JOHNNY ROGAN, RECORDED LIVE AT THE ISLINGTON

PODCAST 233 – MICK TAYLOR'S GOT THE SHITS…

WORD PODCAST 232 – RICK BUCKLER, RECORDED LIVE AT THE ISLINGTON